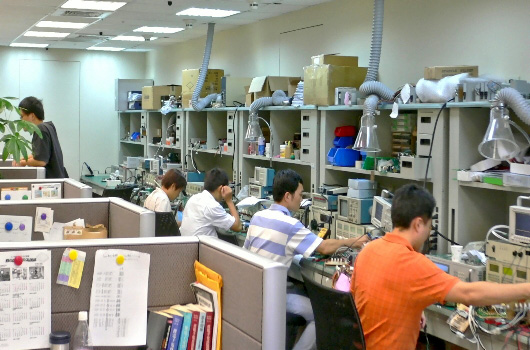 R&D Capabilities
Design of Open Frame / Enclosure Power Supply Products
WIN-TACT Electronics has been innovating and developing the highest quality power supply products for the past 25 years. We focus on quality assurance in design, manufacturing, testing, verification and production. When implementing each power design case, we repeatedly think about the process and details of each design stage to ensure accuracy. We strictly require the professionalism of R & D personnel; our R&D engineers must have more than 20 years of power design experience before they can be admitted.
---
We Deliver Comprehensive Product and Service Solutions to Meet Your Unique Business Challenges
With the rapid changes in demand for high-speed communication era, we find that the system development engineers of the client often struggle to find the power supply with unique specifications. When our marketing sales receive inquiry from customers asking for power supply products, they can recommend the most suitable power supply in a short time. If there has no applicable item from our standardized products, we can quickly propose the model that is closest to the customer's specifications for modification.
Lower Cost of Ownership
Customers may ask, will the modification affect the safety regulations? This situation cannot be avoided, but our R&D engineers are very experienced in the specification of safety standards, we will consider for customer within the scope of most compliance with safety standards and the lowest modification cost.
After gaining the trust of customers, the customers are willing to give their newly system machine to our R & D engineers, so we can directly match with modified power supply sample and verify it or discuss it together. Our R & D engineers help customers consider about some technical problems which clients have not thought about in advance and deploy ahead of time to avoid future problems. Such cooperation mode accelerates the progress of new system development.
We Can Meet Your Power Requirements Fast And Smooth
Customized power supply products are our technical strengths, we design it according to the customer's specifications. After signing confidentiality agreement with customers, then customers only need to simply provide the internal structure, diagram, condition, dimension of the newly design system and the space for power supply. When receiving all the basic technical information, our R&D engineers can immediately operate the project.

Among all the customized development projects, the fastest development project was completed in one month, and the longest development project is also the new 5G technology challenge we are currently implementing. It is expected to be officially released in September 2020.
Customized Solution
The 5G new technology power supply development project uses a high-power interleaved boost power factor corrector (Interleaved High-Power Boost Power Factor Corrector) and phase shifted full bridge series resonance (phase-shifted full-bridge series resonant converter PS-FB SRC) technology to meet the basic requirements of high power and high efficiency. In addition, digital control technology is introduced, the customized firmware program writing plan replaces the traditional complex control circuit, which makes the system simpler and more stable, and can meet the needs of high-density miniaturization.

Our power supply design complies with global safety standards, and all AC-DC and DC-DC power supply products comply with UL safety regulations and various international EMI standards.