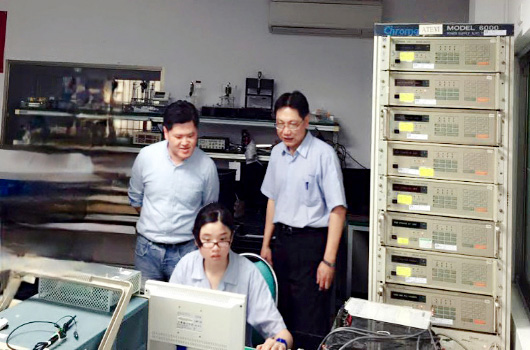 Manufacturing Facilities
Manufacturing of Open Frame Power Supply, Enclosure Power Supply
WIN-TACT Electronics is committed to providing customers with low-cost, fast-produced and delivered power supply products, and adheres to the MIT (Made in Taiwan) quality assurance that does not pollute the natural environment. This belief not only provides WIN-TACT with an extensive sales channels, but also controls high-quality, high-efficiency energy-saving power supplies that meet international standards.
---
The Most Advanced and Stable Manufacturing
WIN-TACT Electronics has a perfect custom design ability and manufacturing execution capability. Over the past 25 years, it has continued to grow together with our manufacturing partners and customers. Our manufacturing partners have one-stop services for professional PCBA full-process manufacturing and have passed ISO 9001 certification. They were listed as UL certified manufacturers in 2010 and have 34 years of professional experience in electronics manufacturing.
State of the Art Manufacturing
WIN-TACTs' manufacturing production partners have complete facilities and professional knowledge of production planning, adopt outstanding manufacturing technology and equipment that match our strict design and supplier selection to incoming parts inspection to final product testing and inspection. In the manufacturing process, the latest equipment is used to increase throughput and improve product reliability.
Our factory has a complete SMT, DIP production line, burning room and assembly & packing lines. The production equipment includes the latest spot-welding machine, automatic optical inspection, process testing, full product burn-in, and finally completes the full-function automatic test of the product. The production process is lead-free, and more and more customers require efficiency and energy consumption. Therefore, we are more focused on developing ease of access power products that produce less waste, consume fewer physical materials and avoid harmful substances.
Introduction of main production equipment in Taiwan factory
Insertion Robot
Soldering Robot
YAMAHA 100Ⅱ, 100X, YG200, YS24 Automatic Placement Machine
YAMAHA YV-64D Automated Dispenser
Spectroanalysis Instrument (AOI)
SMT Solder Paste Machine
OKANO ICT Test Machine
3 Production Lines
Hot Air Reflow Soldering
(Spray Type) Semi-Automatic Tin Furnace
Burning Room
ZENTECH - HI-POT Machine